Sfinj and other delights
My kids are preparing for their big Hanukah concert at school. They go to a special public school--it offers a Hebrew/English bilingual program. I have been (mostly) keeping up with their rapid increase in new vocabulary...but it is a bit random. I never know what words they are learning in Hebrew. Our dinner table is full of surprises in conversation these days. The Professor (who knows a lot of other vocab, but not in this language) is often stunned and surprised by what comes out of our mouths.
In order to refresh my memory (It's been years since I studied or spoke Hebrew regularly), I signed up for a 'word of the day' email. Yesterday, I found myself deep in conversation with one of my twins about the Hebrew word for "circle." I must have known this word when I was a teenager; I spent a year abroad in Israel and my high school there was an odd mix of English for 'international' students, as well as French and/or Spanish and, of course, Hebrew.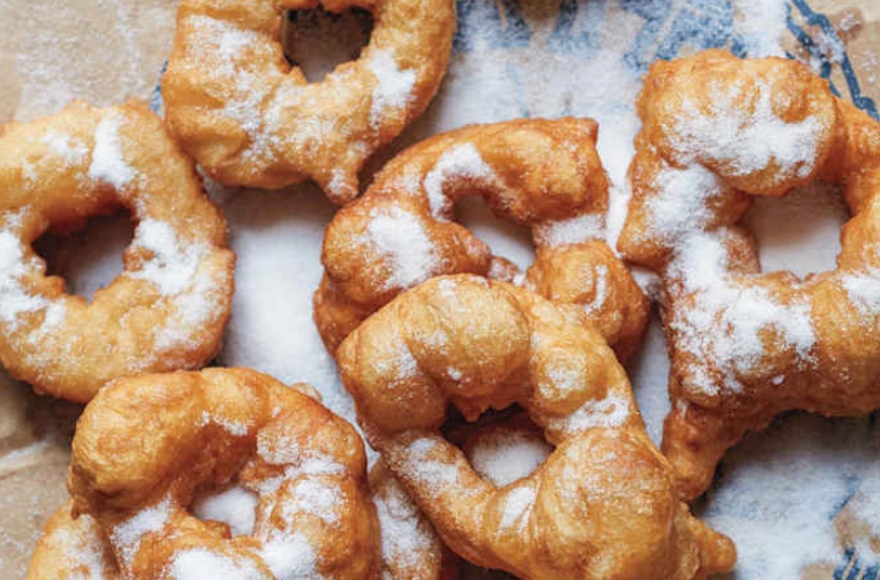 Many of the things I learned that year have been sort of lost in the mists of time...or sleep deprivation, since having twins? I remember how frustrating it was, 28! years ago, when I came home, to find no one knew what I was talking about when I mentioned Sfinj.
My "kibbutz sister" (adopted family for kids living away from home) was part Moroccan and for special treats, she would fry us Sfinj. To my surprise,
there was a big article this week about this "Hot Israeli treat" like it was a new thing or something.
Well, there's nothing new about it, but Sfinj is sure good. It's also good to know others are getting a chance to enjoy it. (Imagine a hot, light doughnut, fresh from the fryer, dipped in sugar water or honey. We stood near the stove, dipped the pastries, and ate them as soon as they cooled enough in the honey to eat.)
To go with this post...one of my all-time, most successful patterns has been for
a knitted Kipah
.
The first version of this pattern appeared in Interweave Knits in 2002. Then, the magazine sold out, and the design needed fine-tuning. I worked on it, changed it, and came up with
a new version.
..a Yamulka. (Note: Kipah, Yamulkah, yarmulke, yarmukah...this is all the same headcovering. The word can be spelled any way you like in English; it's a transliteration from Hebrew and Yiddish)
I have always sold it for a small amount of change; enough to pay for expenses. To date, it has sold probably a couple hundred copies or more. This pattern has also been
newly updated on Loveknitting if you're curious about it.
For my kids, I eventually developed a "stay-put" version which has not been published but probably should be---some day.
A very common (if not popular) present on Hanukah when I was a kid was a night where everyone got new socks and underwear. Yup, some of presents are small and not glamorous...but there is still time to knit a pair of socks for someone (especially a small person...) if you hurry!
Check out the
Molly Baby Socks
on Ravelry or
here on Loveknitting.
For bigger feet, try
the Mary Jane Socks...and here's the link on Loveknitting, too.
This is a time of year when I am like a bear in hibernation. I love staying indoors, cooking, and making things...I hope this week's series on 'small things to knit' has inspired you some, too!
Labels: fast knitting projects, Hanukah, Hebrew, Kipah, knitting designs, loveknitting.com, Mary Jane socks, Molly Baby Socks, Ravelry, Sfinj, Yarmulka